OUR COMMITMENT TO YOU. OUR WARRANTY.
Notwithstanding any provision of any agreement, the following Warranty is exclusive: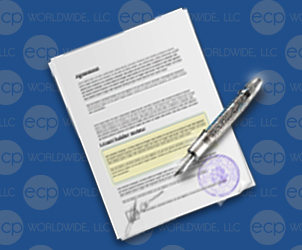 1.- ECP WORLDWIDE, LLC, hereafter referred to as ECP, warrants its parts and products to be free from defects in material(s) and/or workmanship furnished and meet or exceed all relevant Original Equipment Manufacturer's specifications and/or conform to the appropriate Standard Specification(s) relevant to the product and its proposed use. All products sold by ECP are warranted to be genuine Original Equipment Manufacturer (OEM) or Original Parts Manufacturer (OPM), the latter which are parts as supplied to the OEM. ECP further warrants that all parts are brand new and unused, except in cases where items are repaired, refurbished, or remanufactured at the expressed request of the purchaser.

2.- ECP will, at their discretion, replace or repair free of charge any parts or product found to be defective and/or not operating in accordance with published specifications within eighteen (18) months from the date of original shipment from ECP's plant or twelve (12) months from the date of original installation, whichever occurs first. All defective products covered under this warranty shall be returned to ECP with freight prepaid by the buyer.

3.- This Warranty is the exclusive remedy for correction of defective or improperly performing parts or products sold by ECP and does not include parts or products improperly installed or calibrated, damaged, misused or misapplied. Fuses, lamps, and other disposable and/or consumable components are not covered by this warranty. If any failure is found to be due to misuse, abuse, neglect, accident, or abnormal conditions of operation, repairs will be billed at a nominal cost. In such cases an estimate will be submitted, if required, prior to work being commenced.

4.- The foregoing warranty is in lieu of all other warranties, expressed or implied, including, but not limited to any implied warranty of merchantability, fitness or adequacy for any particular purpose or use. ECP's liability on any claim of any kind, including negligence, for any loss or damage arising out of any cause whatsoever, shall in no case exceed the purchase price of the part(s) or product(s) in respect of which such cause arises. ECP shall not be liable under any legal theory for loss of use, revenue, profit, cost of capital or direct, indirect, consequential or incidental damages of any kind or damage caused by the use of goods, whether in contract, tort or otherwise.